What we are
Wiser Now is a publishing and staff development company aimed primarily at improving the wellbeing of older adults. (Our family-friendly activities are suitable for younger people, too.)
What we stand for
In all that we do, we emphasize three values: nature, nurture, and fun. That's an alliterative way of saying:
Nature – Being out in it and bringing it indoors is an essential element of well-being.
Nurture – The world needs more kindness. People need more connection to one another.
Fun – The recognition that our planet provides much to amuse us is the basis of most of our programming.
How we both train and entertain
Staff development: Known for being both practical and lighthearted, Kathy has written more than 35 online courses for Activity Connection, provides both on-site training and customized webinars for national long-term care clients, and is beginning to add her webinars for CEU credit on this website. We also offer downloadable, printable, instantly-usable materials.
Creating delight: Our aim is to help people make new connections in their brains through our original materials, new connections with each other through sharing reactions to them, and to be unexpectedly delighted by both. We show you how to provide that leadership. Ask us about our consulting services.
Programming activities: Primarily now in the form of slide shows that can be shown on large screen TVs or an iPad, we provide original, fun, family-friendly, curiosity-stimulating content in the form of word games, trivia quizzes, imaginative exercises and discussion topics. We also offer books and other downloadable, printable materials.
What sets us apart?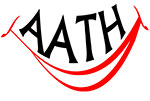 In everything we do, we are known for being both highly practical and lighthearted. Kathy is an active member of the Association of Applied and Therapeutic Humor (AATH) with an emphasis on applied. You will gain loads of new information, ideas, and insights from our offerings, and we'll do our best to make sure you have fun doing it. Check out our services.