Three words describe our goals in everything we create:
Ha-ha
Ah-ha
Aaaahhh
Ha-ha – We design our exercises to be fun, first, because relaxed learners learn more, and second, because people who are having fun exercise more often and longer. Plus, laughter brings oxygen to the brain to literally "freshen" your thinking.
Ah-ha – We expose you to new information and new ideas aimed at arousing your curiosity; when you learn something new, your brain grows new dendrites, meaning it makes new connections, or grows new pathways.
Aaaahhh indicates you have gotten lost in the pleasure of doing something you enjoy. Time flows.
         This is our mantra:
Laughter builds rapport.
Rapport builds trust.
Trust builds relationships.
About Kathy:
I define CEO as the Chief Enthusiasm Officer. Throughout my life, I have been known for my highly practical and invariably upbeat style that provides maximum learning in an enjoyable format. Even when the topic is serious, (as it tends to be when I am developing aging well courses as an instructional technologist) my goal is always to help people connect to one another by tapping into their sense of humor, their stories, and their curiosity about the wider world.
My curiosity is a trait inherited from my father, which explains the wide scope of my mind play materials. From my ever-cheerful mother, I inherited my desire to make light of all possible situations. (You can always cry later.)
If you can find the funny side of anything, you have poked a ray of sunshine through the pervasive dark clouds overhead, and chances are, you will come up with a survival plan next.
My ideas come from an incredible number of people and places. I have been blessed with wonderful colleagues and mentors, and own a wealth of games, puzzles and books. Both the people and the resources in my life are constantly expanding, for which I am eternally grateful.
Click here for Kathy Laurenhue's BIO in pdf format.
Click here for Kathy Laurenhue's RESUME in pdf format.
Other work:
Staff and Curriculum Development
As my resume indicates, I have trained staff and developed customized multi-media materials in the field of aging for clients in the U.S. and Australia over a period of more than 20 years. You will find sample products under "Staff Development" in our store. I especially recommend "Amping Up Your Activity Programming," which was a created with my colleague David Troxel.
As noted above, I am known for providing both highly practical and light-hearted material, but I am absolutely serious about teaching new skills, because learning hasn't happened unless behavior changes. I don't want staff to just do their best. I want them to know WHAT TO DO.
Consulting
I provide webinars and print materials for clients who are looking to improve their skills and use their time more efficiently, especially with regard to life enrichment for older adults.
Content Provider
If you could use a portion of any of the content provided in our shop offerings for other media, I would be happy to customize it for you. Furthermore, Wiser Now is also pleased to offer you the opportunity to put your logo or other custom branding directly onto many of the materials you order from us.
Presentations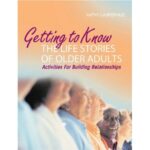 The upbeat and interactive programs I most enjoy giving to families, staff, and as a marketing tool to potential clients are:
Mind Play for the Stressed Mind.
Getting to Know You – based on my book Getting to Know the Life Stories of Older Adults: Activities for Building Relationships from Health Professions Press. Order now from Health Professions Press.
Creative Training Techniques for Elder Care –For a sampling, order the downloadable "22 Creative Training Tips to Use Instantly" from our store.
Alzheimer's disease and dementia topics – My specialty for more than 20 years

Why an apple?
Apples symbolize teachers and learning
Apples are fruit, and we want to help your ideas bear fruit and your ambitions to come to fruition.
Apples are well-rounded — a worthwhile goal.
Apples, for those who associate them with Eve, are a symbol of curiosity, and we think that's a quality worth nurturing.
And finally: I don't want you to sit under the apple tree with anyone else but me.
Contact me at 941-773-7341
or at Kathy@WiserNow.com to learn more.