All of our books are available only through Amazon. (Click on the orange links.) However, if you would like to make a mass purchase of any title, perhaps incorporating your logo, please contact us directly for arrangements.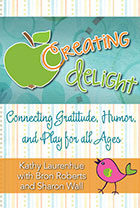 Creating Delight – Connecting Gratitude, Humor, and Play for all ages – print – Creating Delight is a highly practical and entertaining alternative to the more serious books on the idea of thankfulness. While we believe absolutely in the importance of gratitude, this book builds on that work by connecting it with humor and play. It broadens the possibilities, offers a lighthearted attitude, and provides dozens of specific ideas for sharing the pleasures of being alive.
Creating Delight – Connecting Gratitude, Humor, and Play for all ages – Kindle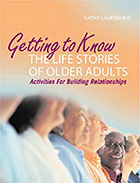 Getting to Know the Life Stories of Older Adults – Activities for Building Relationships – Positive relationships begin with people enjoying one another. This fresh look at reminiscence uses fun-filled, lively activities to help people laugh with, as well as learn from, each other. Nine in-depth group exercises and more than 30 informal mini-exercises cover broad topics such as individuals' backgrounds, personal preferences, and social history. Games, discussion, storytelling, and other interactive methods are used to reveal participants' unique experiences.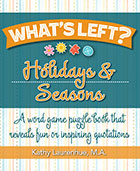 What's Left? – Holidays and Seasons – This puzzle book is like Where's Waldo with words. Instead of sorting through the muddled mayhem to find the red and white lines of a cap and shirt, you are crossing out clues to find the bright lines of a quotation or verse.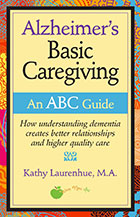 Alzheimer's Basic Caregiving – An ABC Guide – print – Essential Alzheimer's guidelines featuring the author's trademark blend of practicality and lightheartedness. This book provides both family and professional caregivers palatable and compassionate advice and answers that can be instantly put to use. Main topics: common forms of dementia, patterns of progression, the logic behind behaviors, effective communication.
Alzheimer's Basic Caregiving – An ABC Guide – Kindle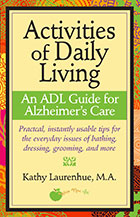 Activities of Daily Living – an ADL Guide to Alzheimer's Care – print – The companion book to Alzheimer's Basic Caregiving – an ABC Guide," this book covers the daily issues of dressing, bathing, grooming, continence care, nutrition and hydration. Like its companion volume, it is highly practical and surprisingly light-hearted. Families and professionals will find it easy to read and easy to put to instant use.
Activities of Daily Living – an ADL Guide to Alzheimer's Care – Kindle