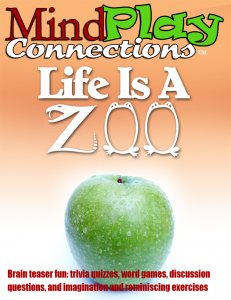 1. fosters friendships – while providing hundreds of conversation topics beyond the weather
2. increases knowledge — original exercises create new pathways to expand the horizons of your brain.
3. adds fun and whimsy to your days.
4. nurtures creativity by helping you to see new ways of thinking about ordinary words, events, situations.
5. stirs imagination, which is one of the most important ways to maintain intelligence.
6. satisfies the brain's need for novelty and variety.
7. provides a break that refreshes – for five minutes or for hours
8. eliminates activity prep time with its dozens of instantly usable ideas on dozens of themes.
9. can be stored forever on your computer, so once downloaded each title is always available.
10. can be printed in its entirety or a page or two at a time as needed.
Enjoy MindPlay Connections™ as an individual or with others
The booklets are designed to help people disconnect from technology and reconnect with one another. A few examples of where to pass time pleasantly when you download a MindPlay Connections™ title:
• Wherever you wait: doctors ' offices, restaurants, grocery and movie lines
• At family dinners when you want to stop talking about homework and "To Do" lists
• On planes, trains, and automobile trips when "I spy" is driving you crazy
• While ignoring what your spouse is watching on TV
Let MindPlay Connections™ make your days as an activity professional go easier
MindPlay Connections™ have endless possibilities! Learn more about how to make your job easier using our material. By registering here (link) you will have access to these free booklets:
The Philosophy Behind Wiser Now's MindPlay Connections™
Using Wiser Now's MindPlay Connections™ Effectively
Adapting Wiser Now's MindPlay Connections™ for Someone with Dementia