Announcing the newest product from Wiser Now:
Condensed Special Days
Are you a subscriber to Activity Connection?
Do you love the site, but feel overwhelmed by the choices?
Do you want an easy way to reduce your planning time?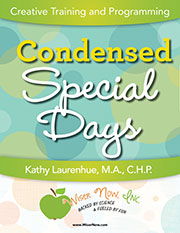 Condensed Special Days has been created for Wiser now clients with the blessing of Activity Connection. It reduces each Special Days offering to three events, and links them to other relevant dates during the month while also providing context for the leaders who have not lived through the decades their participants have experienced. In short, this time-saving document gives you condensed, connected dates with added context where needed for each day of the year.
Get your FREE SAMPLE month by signing up here.
Condensed Special Days Subscriptions
Six Months - $50/building or community
One Year - $100/building or community (that's two months free!)
Order your Condensed Special Days subscription here.
Are you responsible for more than one community or building? Contact us for information on group discounts. Call 941-773-7341 or email Kathy@WiserNow.com
Do you have other questions? Call 941-773-7341 or email Kathy@WiserNow.com
New product #2: Bonus Exercises
Would you like some fresh, lighthearted material that's a bit out of the ordinary?
For many years at Wiser Now, we have been producing original trivia quizzes, word games, discussion topics, and much more. Now we are offering 10 per month relevant to the Special Days for those who would like to benefit from our lighthearted approach with its emphasis on strengthening social connections among participants.
This bonus material is fully downloadable and printable with answers at the end of each exercise. Each month's bonus also includes a slide show of exercises viewable on a large screen TV. (Each slide show has 75+ slides.)
Curious, but need a sample? Sign up below to receive one printable document with three exercises related to the Activity Connection 2018 monthly theme, "February Is for the Birds" that could be used any month of the year. It includes one odd bird facts trivia quiz, one bird pun word game, and one imaginative exercise, plus an abbreviated pdf slide show featuring the trivia quiz.
Get your FREE SAMPLE Bonus Exercises by signing up here.
Add Bonus Exercises to your Condensed Special Days
Six Months of bonus exercises - $45
One Year of bonus exercises - $80
Order your Bonus Exercises subscription here.
Are you responsible for more than one community or building? Contact us for information on group discounts. Call 941-773-7341 or email Kathy@WiserNow.com
Do you have other questions? Call 941-773-7341 or email Kathy@WiserNow.com